2016년 서울과 런던을 베이스로 그래픽 디자인과 다양한 시각 매체의 전문가들이 모인 프로젝트 팀입니다. 
브랜딩 컨설팅, 브랜드 아이덴티티, 패키지 디자인, 웹디자인, 영상, 공간기획

등, 
브랜드가 되기 위한, 아이덴티티 구축과 통합적인 브랜딩 전략, 신선한 솔루션을 고민하고,
단순히 로고가 아닌 브랜드가 되기 위한 서비스를 제공합니다. 
Studio Swisscottage is a team based on both Seoul and London. 
The team is consisted of specialists with graphic design and diverse visual platforms.
We do create BI, CI, packages, web design, film, moving image, space etc.
We build your identity and suggest creative solutions and stratgy on great service.
Video Director, Sulki Park
Web Coding Developer, Osung lim
Guest Photographer, Pyungkuk Choi
Sangwon Lee is graphic designer, media artist.
He graduated in MA at Central Saint Martins, London, UK.
He asks questions about inevitable relationship between human and media in digitalized modern era.
His work is formed by observation of contemporary network phenomenon, research in internet, investigating and
resulting art production. The work intends to cast a critical lens over contemporary methods of media systems and social issues. 
This research based work manifests itself as speculative and counter-proposals, visual experimentation, photography, site-specific installation.
​​​​​​​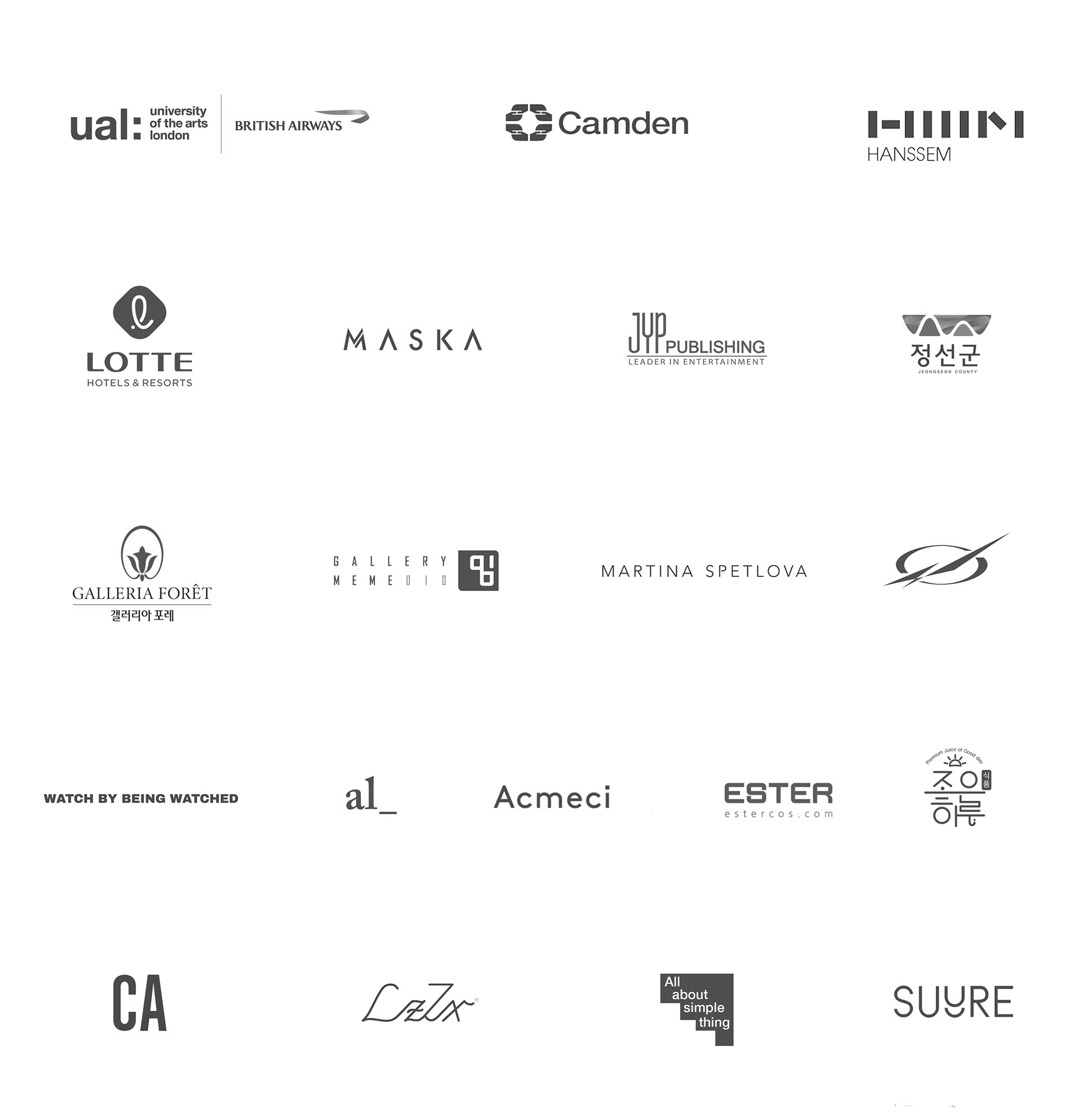 British Airways                                                       캘린더 디자인
Hanssem, 한샘                                                         공간 디자인
Lotte City Hotel                                                     공간 그래픽 디자인
JYP Publishing                                                        포스터 디자인
정선군                                                                         
브랜딩 총괄(로고시스템, 패키지, 캐릭터) 
Gallery Meme                                                         전시 디자인
Galleria Foret                                                          리플렛 디자인
al_                                                                               브랜딩 총괄(로고시스템, 패키지, 웹디자인, 공간그래픽) 
51Percent                                                                 브랜딩 총괄(로고시스템, 패키지, 웹디자인, 모바일 UI, BX, 패션그래픽, 제품기획, 전시기획) 
Maska                                                                        패션필름 기획, 패션필름 제작, 룩북 디자인
a mont                                                                       패션 그래픽
Acmeci                                                                      웹디자인
Studio Sol                                                                전시기획, 포스터, 리플렛 디자인
Usual Edit                                                                패션그래픽, 앨범자켓 디자인
SUURE                                                                     브랜딩 총괄(로고시스템, 패키지, 라벨디자인)
Ester Cosmetics                                                     패키지 디자인, 일러스트레이션
좋은하루

                                                    패키지 디자인, 파우치 디자인
Martina Spetnova                                                 웹디자인
Camden Council                                                   리싸이클링 캠페인 프로젝트
나르가즘 랩                                                              로고 디자인, 명함 디자인
Plinkyfiled.ac                                                         로고 디자인, 서류 디자인, 명함 디자인   
지산디자인                                                               공간 디자인
Studio AAST                                                         공간 기획, 공간 그래픽 
Junghwan Park                                                      전시 포스터
Biying Shi                                                               전시 리플렛
PG Choi                                                                  편집 디자인, 출판
가평 백 한과                                                            브랜딩 총괄(로고시스템, 패키지, 공간그래픽)
명성 교회                                                                 의류 그래픽
메디미트                                                   리플렛
한글로                                                                      웹 페이지, 배너 디자인
2019, Pori Film Festival, 2018, 핀란드, 공식초청 및 상영
2019, MOHA Short Film Night, 부다페스트, 불가리아, 공식 초청 및 상영 
2019, Athens Fashion Film Festival, The Athens Concert Hall, 공식 초청 및 상영
2019, Lisbon Film Rendezvous, 'Semi-Finalist', at Lisbon Art Center & Studios, 리스본, 세미파이널 및 상영
2018, Istanbul International Experimental Film Festival, Turkey, 이스탄불, 공식초청 및 상영
2018, Hi Youth Festival, 'Official Selection', at Tribowl, Song do, Korea, 송도 트라이보울, 공식 초청 및 상영
2018, Bideodromo Internatinal Experimental Film and Video Festival, BilbaoArte, Spain, 스페인, 빌바오, 공식 초청 및 상영 
2018, Bokeh South Africa international Lifestyle & Fashion Film Festival, Cape Town, 남아공, 공식초청 및 상영
2018, Motion Pictures Film Festival, 'Official Selection', Nigeria, 나이지리아, 공식 초청 및 상영
2018, HATE Festival, Korea, 한국, 공식 초청 및 상영
2018, Gamma Young Artist Competition, Finalist 25 in Contemporary media art, Keio & Yonsei University, 연세대학교, 25인 선정 
2018, The Quarantine Film Festival, Bulgaria, 불가리아, 공식 초청 및 상영
2018, Deutsche Welle, 'SHIFT' TV program, Germany 독일 방송 'SHIFT' 에 방영
2018, MigrArti Caltabellotta Film fest, in Experiment, Italy 이탈리아, 공식초청 및 상영
2018, Balkan Can Kino, in Video art, Athens 그리스, 공식초청 및 상영
2017, Motion Arts Temora Film Festival, 'Semi-final'ist, Australia 호주, 세미 파이널 및 상영
2017, Fashion Film Festival Milano, Milano 밀라노, 공식 초청 및 상영
2017, Porto Fashion Film Festival, Porto 포르투, 공식 초청 및 상영
2017, Thunderdance Film Festival, London 런던, 공식 초청 및 상영
2017, Sarajevo Fashion Film Festival, Sarajevo 사라예보, 공식 초청 및 상영
2019, Rome, Italy - 'Watch by being watched', OGA, Ospizio Giovani Artist 로마, OGA 단체전
2018, Seoul, Korea - Gamma Young Artist Competition, Yonsei University, 연세대학교, 단체전
2018, Seoul, Korea - 'Watch by being watched', Gallery Meme, Solo 서울, 갤러리 밈 개인전
2017, Seoul, Korea - 'Mass Games', Carousel Trading 카루셀 트레이딩, 서울, 개인전
2017, Seoul, Korea - Movement, 'Watch by being watched', All about simple thing 서울, Studio AAST 단체전
2016, London, UK - 'Unsent Letter', Lethaby Gallery, 런던, 레타비 갤러리 단체전
2016, London, UK - 'Process Press', Central Saint Martins. 런던 센트럴 세인트 마틴스 단체전
2015, Seoul, Korea - YAH Collective 2nd Exhibition, 'Look at me, Look at you' 서울, 단체전
2014, London, UK - 'Super market', Camberwell College of Art 런던 캠버웰 컬러지 오브 아트 단체전 
2014, Seoul, Korea - Experimental Show, 'Still life', Seoul Art Center  서울, 서울 아트 센터  2인전
2018, Deutsche Welle, 'SHIFT' TV program (http://www.dw.com/de/digitale-%C3%BCberwachung-als-kurzfilm/av-43478382)
2017, CA Korea, Portfolio Highlight, Nov - Dec
2017, Maska (http://e-maska.com/collaboration-4-lee-sang-won/)
2017, O-Seoul (http://www.o-seoul.com/journal/meet-the-makers/aast/)
2017, 국민일보 (http://news.kmib.co.kr/article/view.asp?arcid=0011503852&code=61171111&cp=nv)